Hello, friends, and happy May! While the weather outside might be…variable, we're all snugged up warm and cozy with our books this month, right?
And I'm sure you're going to get all the warm and cozy feelings with this month's title, LIBBY LAWRENCE IS GOOD AT PRETENDING, by wonderful author Jodi McAlister (author of the Valentine series).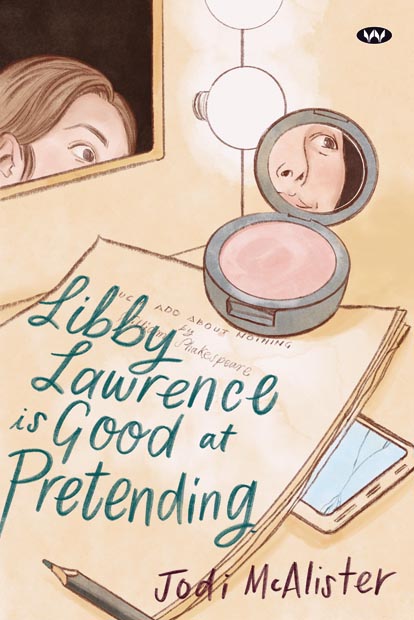 Here's the blurb:
Nineteen-year-old Libby Lawrence is good at pretending. Problem is, she's not entirely sure how to stop. Which is good for her role in the campus production of Much Ado About Nothing … but poses problems in her personal life. Especially when the list of things she can't admit to, even to her best friend Ella, starts to build.

Losing her virginity to the too-charming director of her uni theatre group (just before he ran off with the group's money) is only the start. There's also an uncomfortable encounter with her broody on-stage love interest Roarke, and her crackling offstage chemistry with nerdy-but-sweet new director Will.

And while Libby is thrilled to finally be on the inside of the uni theatre group she reveres, there's a downside to being in on all the group chats, drama and backstage gossip. She must discover who she wants to be, who she wants to be with … and how to stop pretending.



Jodi McAlister's sparkling campus novel is a rom-com about friendship, authenticity, and all the ways we perform ourselves … and the preciousness of those moments when all artifice falls away. Dramatic and wise, it combines the arch wit and sharp banter of Ten Things I Hate About You and Clueless with a knowing heart.
You can join in with our read of LIBBY LAWRENCE anytime this month, and get free-shipping on a copy of the book right here at Boomerang Books, using the code 'loveoz'. You can also find the ebook copy of LIBBY here, if you prefer to read digitally.
I hope you enjoy this fantastic May read. Find us on the bookclub FB page, and catch you later in the month for a Q&A with Jodi herself – stay tuned!
xxEllie