Hey Jodi! Tell us a bit about the backstory for Libby Lawrence, and how the idea came to you
This is a book about theatre kids with too many emotions, and I wrote the first draft of it many, many years ago, when I was a theatre kid with too many emotions. In the book, Libby is nineteen and a second-year undergrad. I was twenty and a third-year undergrad when I wrote the first draft. I've since rewritten it from the ground up four times, but every so often, a sentence that baby writer Jodi wrote in that very first draft will pop up, and it warms my heart.
This book isn't about theatre kid me, but the theatre kid world that it's set in was one I lived in for a long time. I grew up on community theatre stages, and that persisted well into my young adulthood. It's a real pressure cooker world, where emotions are intensified and you can play and experiment with all kinds of things – because, hey, it's just pretend, right? Sometimes it can make you brave. Sometimes it can terrify you. Sometimes it means people push boundaries that really shouldn't be pushed. Sometimes it helps you find the words to articulate what you really want or you really feel.
…or, basically, I got the idea to write a community theatre book because that's what I spent a lot of my time doing.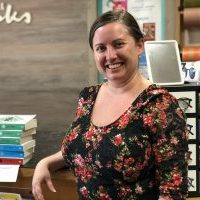 Do you have a personal connection to the story you chose to tell in your book?
Are you prepared for me to write a novel in response to this question? Because you might well get one.
I will never write another book as close to my heart as this one. Although the Valentine series has been out for several years now and Valentine is the first book I ever had published, Libby Lawrence is really the book that taught me how to write. I'd written it and rewritten it twice before Valentine was even a glint in my eye. After I wrote the first draft of Valentine, I went back and rewrote this one again – and then again after I'd written Ironheart and Misrule.
This book is very personal to me because the world it's set in is very personal to me. Community theatre was technically just a hobby of mine – I never had aspirations to become a serious actor – but it shaped me in some very fundamental ways. I don't think this book would have existed if I hadn't written that first draft when I was still so deeply immersed in that world. However, in some ways, I wasn't ready to write it yet. I had to grow into my writing powers before I could really tell this story the way that I wanted to on the page.
As many of you will know, I'm an academic as well as an author, and a lot of the research I did during the many years of rewriting this book ultimately played into it, even though I didn't necessarily intend it to at the time. I've talked a lot before about how my research into romance shaped the way I wrote Pearl and Finn and their romance in the Valentine series. The same is true for Libby and Will here (although their romance is very different to Pearl and Finn's!). Similarly, between/during rewrites 3 and 4 of this book, I did a whole PhD on depictions of female virginity loss, and you can bet that figured deeply into the way I wrote Libby (in a way I don't think I had the skill to handle when I was baby Jodi setting about writing her first book).
Community theatre taught me how to write longform. I used to write for the stage, mostly adaptations of classic novels (incidentally, the first writing I was ever paid for). Writing about community theatre in Libby Lawrence Is Good At Pretending taught me how to write a novel. Rewriting it over and over again was integral to my development as an author. I can't tell you how much it means to me that this book, which is so close to my heart, is now out in the world.
Okay, let's talk comfort reads – which books do you turn to when you need a break from it all?
Romance! Always!
I've got a long list of recs on my website, and I also do recs every Sunday on Instagram (#DrJodisSundayRomanceRecs). One author I return to over and over again is Lucy Parker… who, coincidentally, also writes about theatre, although all her actors are pros!
So Libby Lawrence Is Good At Pretending is your book's title, and it's an awesome title. But what might it have been called, if it wasn't called what it is now?
If it wasn't called LIBBY LAWRENCE IS GOOD AT PRETENDING, this book would be called AMATEUR. Libby and co are doing amateur theatre, but Libby also feels like an amateur at many things in her life – not least talking about her feelings.
I'm very happy with the direction we went, though. While I like the thematic tie in of AMATEUR, it's also a bit vague. The title we've got is, I think, much more specific.
And your fave first line from any book is…
"I write this sitting in the kitchen sink", from I Capture The Castle by Dodie Smith. I've never been so immediately grabbed in my life.
Thank you, Jodi, for getting your sillies on with #LoveOzYAbookclub J
xxEllie