It's lovely to have Kate Murray, author of this month's title WE WHO HUNT THE HOLLOW, here to visit on the bookclub blog! I hope you enjoy the chance we had to pick Kate's brain about female superheroes, Umbrella Academy, and why she prefers editing over writing – read on…
Hi Kate! Can you tell us a bit about the backstory for your book WE WHO HUNT THE HOLLOW, and how the idea came to you?
I never intended to write this story – I was writing something else at the time – when I saw a call for novella submissions for a local publisher, and thought it might be fun to write a novella … and then this idea flew out of the universe into my brain. All of a sudden I had this big, chaotic family of female superheroes in my head. The idea was so much fun, I felt compelled to write it. That original novella eventually turned into a YA novel, which I then submitted to the 2020 Ampersand Prize with Hardie Grant Children's Publishing. It was shortlisted, and then they ultimately published it as well! (PS: the 2022 Ampersand Prize is open right now – submissions close 31st July – I encourage unpublished writers out there to give it a shot!)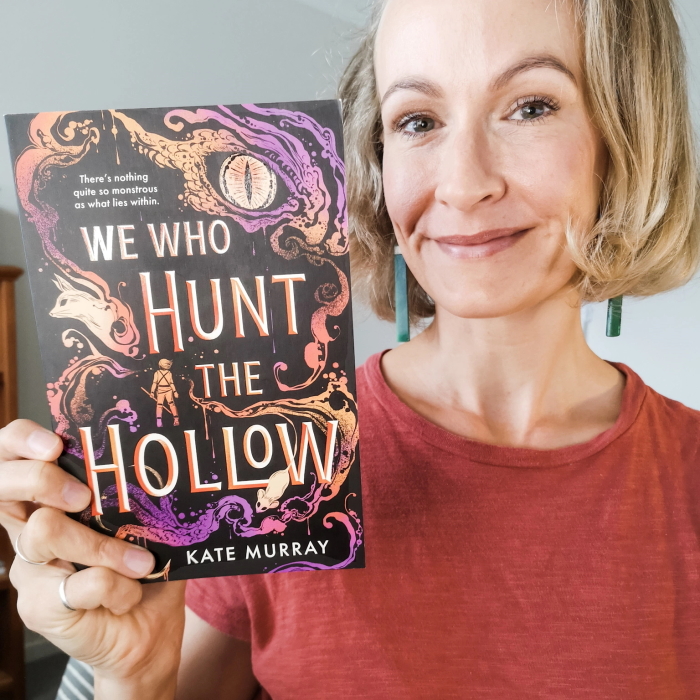 Did you have a playlist for this book? Do you have a playlist for writing? Can you tell us about it?
Yes! The playlist for We Who Hunt The Hollow can be found here on Spotify or here on Youtube Music. It's loosely themed, with songs I enjoy listening to that also helped me get in the mood of the story while writing and editing. I love making playlists for my stories. Sometimes, when writing, I can't listen to anything at all – I find it too distracting – other times, I love having the music to help me get in the right headspace.
There's writing and there's editing – which do you prefer and why?
I'm pretty sure … I prefer editing. Writing the start of any story is great, right – a new idea is always exciting! – but once I hit the middle, I get bogged down and find filling the blank page quite difficult. However, once I have a whole story drafted, I get re-inspired. I have something to work with, that I can see as a whole. I love thinking about the story structure, and character journeys, and character wants versus needs, etc. I've tried planning before – figuring all that stuff out first – but it sucks a lot of the joy out of the story for me. So I pants my way, with difficulty, to the end, and then dive into the fun of editing to shape and refine the story. It's very satisfying.
This is one that so many YA authors are asked… Why write for teenagers?
First of all, I love YA fiction for its fast pace, its action, its high drama and emotion. But also teens are such a great audience to write for – they're so honest, so demanding, and so passionate! I love writing in this category.
And off topic: What TV show/movie is getting you through right now and why?
Umbrella Academy! I do love stories about big, messy, superhero families… I also love time travel. I really enjoy the irreverence of this show, the complicated relationship dynamics, and how the characters aren't good or bad but very much grey (I love Klaus). And how well they wrote Elliot Page's transition in with this most recent season!
Thank you for visiting with us, Kate!
And once you've had a chance to read this month's title, keep an eye out for August – I promise it's going to be a doozy 😊
xxEllie