Hi everyone! We are super excited to announce the #LoveOzYAbookclub book for August 2022 will be
SOCIAL QUEUE by Kay Kerr. We all loved Please Don't Hug Me, Kay Kerr's first book, so we thought it would be great to feature her second book here on bookclub!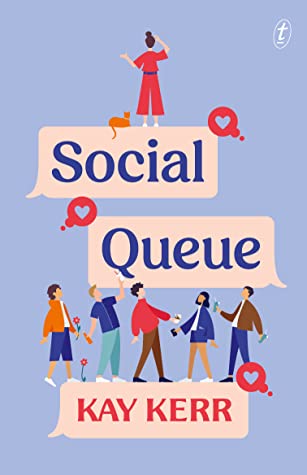 I thought I was nobody's teen crush, but turns out I was just missing the signs.
Zoe Kelly is starting a new phase of her life. High school was a mess of bullying and autistic masking that left her burnt out and shut down. Now, with an internship at an online media company—the first step on the road to her dream writing career—she is ready to reinvent herself. But she didn't count on returning to her awkward and all-too-recent high-school experiences for her first writing assignment.
When her piece, about her non-existent dating life, goes viral, eighteen-year-old Zoe is overwhelmed and more than a little surprised by the response. But, with a deadline and a list of romantic contenders from the past to reconnect with for her piece on dating, she is hoping one of her old sparks will turn into a new flame.
Social Queue is a funny and heart-warming autistic story about deciphering the confusing signals of attraction and navigating a path to love.
Kay Kerr is an autistic author and journalist from the Sunshine Coast, Queensland. Her debut novel Please Don't Hug Me (2020) was shortlisted for Book of the Year for Older Children at the Australian Book Industry Awards (ABIA) in 2021, and listed as a 'Notable Book' by the Children's Book Council of Australia (CBCA). Her second novel, Social Queue, was released with Text Publishing in October 2021. New York Times best-selling novelist Helen Hoang called it "A perceptive, honest, and warmly captivating romantic comedy that touched my heart."
Kay's freelance writing has appeared in The Guardian, SBS Voices, Daily Life, Broadsheet, and Peppermint Magazine, amongst others. She writes about autistic representation, disability, parenting, pop culture, gardening, and feelings.
Prior to receiving her adult autism diagnosis, Kay worked as a community newspaper reporter and editor in Brisbane.
You can order your copy of SOCIAL QUEUE from Boomerang Books and use the code 'loveoz' to receive free shipping, or find the ebook here. I hope you enjoy this read for August and I look forward to discussing it with you all later in the month on the FB group thread.
Emm xx