Happy 2022 everyone, and welcome to a new year of #LoveOzYAbookclub! We hope everyone has had a great festive season and in the Southern Hemisphere a nice Summer Break. For our Northern friends we hope Winter isn't being too harsh and giving you lots of reading time!
For February, we are super excited to announce the #LoveOzYAbookclub book will be THE MIDNIGHT GIRLS by Alicia Jasinska.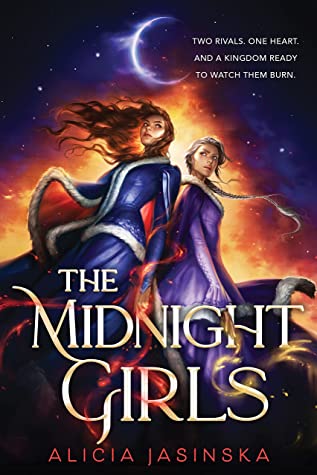 It's Karnawał season in the snow-cloaked Kingdom of Lechija, and from now until midnight when the church bells ring an end to Devil's Tuesday time will be marked with wintry balls and glittery disguises, cavalcades of nightly torch-lit "kuligi" sleigh-parties.

Unbeknownst to the oblivious merrymakers, two monsters join the fun, descending upon the royal city of Warszów in the guise of two innocent girls. Newfound friends and polar opposites, Zosia and Marynka seem destined to have a friendship that's stronger even than magic. But that's put to the test when they realize they both have their sights set on Lechija's pure-hearted prince. A pure heart contains immeasurable power and Marynka plans to bring the prince's back to her grandmother in order to prove herself. While Zosia is determined to take his heart and its power for her own.

When neither will sacrifice their ambitions for the other, the festivities spiral into a wild contest with both girls vying to keep the hapless prince out of the other's wicked grasp. But this isn't some remote forest village, where a hint of stray magic might go unnoticed, Warszów is the icy capital of a kingdom that enjoys watching monsters burn, and if Zosia and Marynka's innocent disguises continue to slip, their escalating rivalry might cost them not just the love they might have for each other, but both their lives
Alicia Jasinska is a fantasy writer hailing from Sydney, Australia. A library technician by day, she spends her nights writing and hanging upside down from the trapeze and aerial hoop. She is the author of The Dark Tide (a previous #LoveOzYAbookclub book) and The Midnight Girls.
You can order your copy of THE MIDNIGHT GIRLS from Boomerang Books and use the code 'loveoz' to receive free shipping, or you can find the ebook here. I hope you enjoy this read for February and I look forward to discussing it with you all in the FB group later in the month.
Emm xx