For our November Classic Read we'd like to announce THE INCREDIBLE ADVENTURES OF CINNAMON GIRL by Melissa Keil.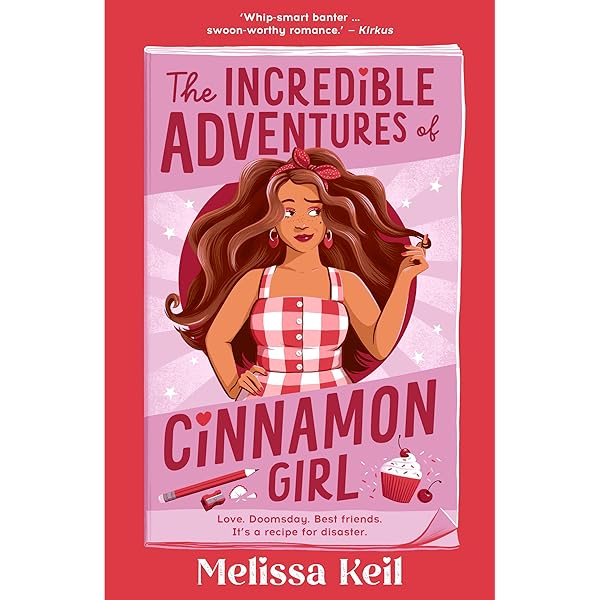 Alba loves her life just as it is.
She loves living behind the bakery, and waking up in a cloud of sugar and cinnamon. She loves drawing comics and watching bad TV with her friends.
The only problem is she's overlooked a few teeny details:
Like, the guy she thought long gone has unexpectedly reappeared.
And the boy who has been her best friend since forever has suddenly gone off the rails.
And even her latest comic-book creation is misbehaving.
Also, the world might be ending – which is proving to be awkward.
As Doomsday enthusiasts flock to idyllic Eden Valley, Alba's life is thrown into chaos. Whatever happens next, it's the end of the world as she knows it. But when it comes to figuring out her heart, Armageddon might turn out to be the least of her problems.
Melissa Keil was born in Melbourne, and has been a giant book nerd for as long as she can remember. She studied Cinema and Anthropology at university, and then spent a few years dabbling in graduate study, including Professional Writing and Editing. In between she has been a high school teacher, Middle Eastern tour guide, waitress, community theatre dogsbody, and IT help desk person. Now, by day, she is a children's book editor, and spends the rest of her time writing, watching YouTube, and wrangling a cheeky spoodle named Hugo. Her debut YA novel, Life in Outer Space, was the winner of the 2013 Ampersand Project and the 2014 Ena Noël award. Her subsequent YA novels were The Incredible Adventures of Cinnamon Girl and The Secret Science of Magic. Melissa's short story, Sundays, is featured in Begin, End, Begin, the #LoveOzYA anthology. Her books have been shortlisted for the CBCA Book of the Year award, the Prime Minister's Literary Award and the Gold Inky, and have been published around the world.
I hope everyone enjoys THE INCREDIBLE ADVENTURES OF CINNAMON GIRL. We also have the discount code (LOVE2LOVEOZYA) now active in November for you to purchase the book for 20% off at Readings. Thank you so much to Readings! Look out for our author interview with Melissa later in the month on our Instagram page LoveOzYABookclub. Emm xx