We did it! We reached the end of the year!! (cue hysterical cackling)
This year has been SUCH a slog, and I know you're all glad to see the end – even if your Year of Lockdown wasn't totally awful, it's still just really tiring. Even normal end-of-year stuff is tiring. I hear you hard on that. So for this year's finale book, I've chosen something that feels like a big hug – ANYTHING BUT FINE by Tobias Madden.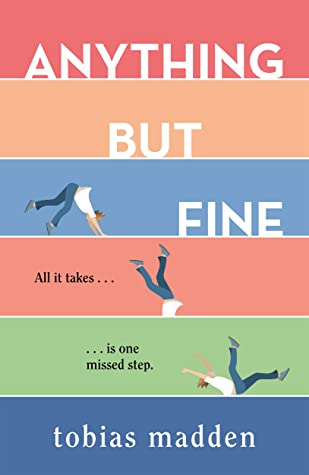 Here's the blurb:
Luca is ready to audition for the Australian Ballet School. All it takes to crush his dreams is one missed step . . . and a broken foot.

Jordan is the gorgeous rowing star and school captain of Luca's new school. Everyone says he's straight – but Luca's not so sure . . .

As their unlikely bond grows stronger, Luca starts to wonder: who is he without ballet? And is he setting himself up for another heartbreak?
You can grab a copy (on sale right now!) of ANYTHING BUT FINE by clicking on this link to Boomerang Books, and use the code 'loveoz' to get free shipping. You can also find the ebook version right here.
ANYTHING BUT FINE is our last book for the year, which means it will carry us through December and January, all the way to February 2022 – when we will yawn and rub our eyes and wake from our lazy-hazy summer holiday slumber to announce our first book for the New Year. You can check in at #LoveOzYAbookclub on the FB page to find book recs and say hi, but there won't be any more official activities until Feb 2022 – so take your time with this book and enjoy life!
I hope your holidays are happy, and your New Year is kind. Stay well, look after yourselves, and much love from Emmaly and me to you and yours during this season of renewal and recharge.
All the very best, and see you in 2022
xxEllie