Happy Spring everyone in the Southern Hemisphere and Fall/Autumn to those in the North! This month we have decided to do another classic Aussie YA, CAME BACK TO SHOW YOU I COULD FLY by Robin Klein.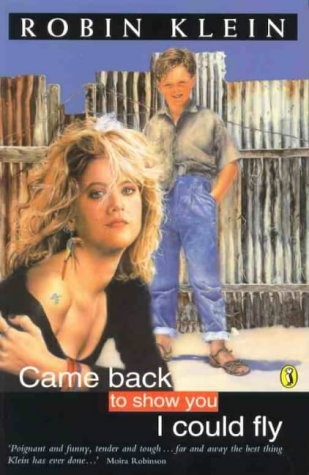 Seymour is bored and lonely, and running from a gang of kids when he opens a back-lane gate. And there is Angie. She is older than Seymour, confident, cool and alluring, and she treats him with the affection of an older sister. Seymour is captivated—through Angie he is awakened to the fun and adventure in life. But Angie has a dark side—a secret that threatens to destroy her. And as Seymour begins to understand that all is not well he knows he has to help her.
CAME BACK TO SHOW YOU I COULD FLY won a Human Rights Award for Literature in 1989. It also won the 1990 Australian Children's Book of the Year Award, Older Readers, and was shortlisted for the 1990 Victorian Premier's Literary Award and the 1990 NSW Premier's Literary Award, as well as being named a White Raven book at the 1990 Bologna Children's Book Fair. Say A Little Prayer, the film version, was released in 1993.
Robin Klein was born 28 February 1936 in Kempsey, New South Wales, into a family of nine children. Leaving school at age fifteen, Klein worked several jobs before becoming established as a writer, having her first story published at age sixteen. She would go on to write more than 40 books, including Hating Alison Ashley (adapted into a feature film starring Delta Goodrem in 2005), Halfway Across the Galaxy and Turn Left (adapted into a television series in 1992), and Came Back to Show You I Could Fly (adapted into a film directed by Richard Lowenstein).
You can order this month's title through Boomerang Books and receive free shipping using the 'loveoz' code at checkout, or the ebook is available here. I hope you enjoy this read for September and I look forward to discussing it, and other Robin Klein books, later in the month.
Emm xx